Core Facts
2015-02-04
In a recent article in Forbes about the new content discovery engine Taboola, John Hall said "Consumers are thirsty for personalized information and brands need to tailor their content to meet their audiences' needs, or risk losing out on these meaningful interactions."
According to the Content Marketing Institute's 2014 study released late last year, 70% of companies polled are creating more content than they were a year ago. What seems to be a missing factor in all this is where to house the content. Brands need to curate as well as distribute and amplify.
There's a lot of distribute and amplify going on - across all social channels. Which is as it should be. But the majority of brands are not providing one central digital content hub where a visitor (whether from the media or the public) can find all their content.
The brand online newsroom is the perfect vehicle for a digial content hub. It's where the media and the public are used to going to find the latest content. All you have to do is upgrade from this.
To this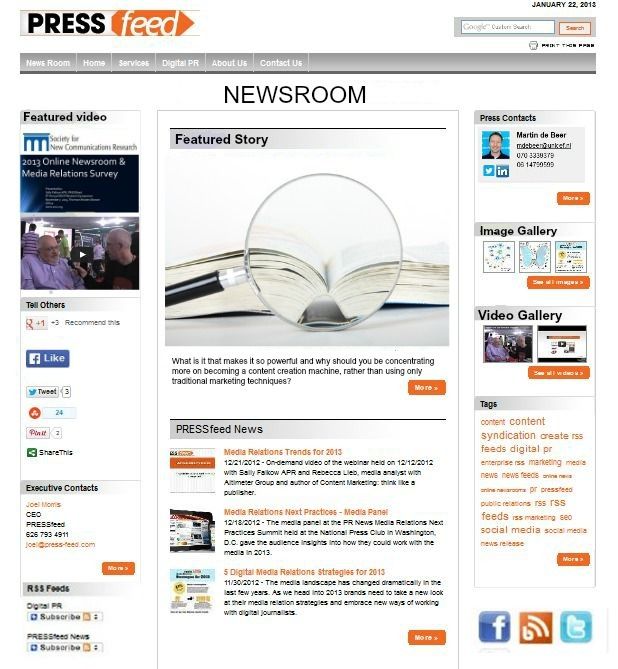 Call 626 793 4911 for a demo of the PRESSfeed content hub.
Your new visual content hub could be up and running in just two weeks.
Tags: digital content hub, online newsroom, content marketing, PRESSfeed, PR
About
PRESSfeed is a hosted online newsroom that creates a digital content hub with social features and integration. It has all the elements journalists, bloggers and the public expect in a corporate newsroom today. We help our clients stay ahead in the rapidly moving digital media landscape - we offer initial training in how to use the newsroom to improve your media relations and online visibility,our News Optimization Toolbar offers full instructions on how to optimize news releases, images and video for search and our monthly training webinars keep clients informed on the latest technology and media relations trends and tools. http://www.press-feed.com
Contact
Sally Falkow
President
PRESSfeed, the social online newsroom
626 793 4911
sally@press-feed.com